Rotary Vaccum Paddle Dryer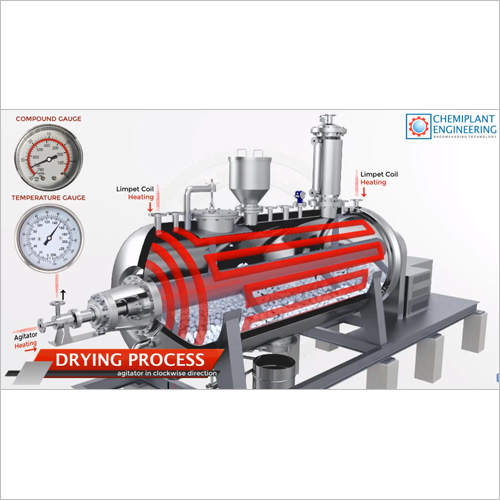 Rotary Vaccum Paddle Dryer
Product Description
DESCRIPTION
The Dryer has a cylindrical jacketed vessel with a central shaft and innovative agitator paddle/blades. The RVPD agitator blades are designed that they sweep the entire internal surface and simultaneously turn the material so that all the product media comes into contact with the heated inner surface.
The RVPD shaft is supported on both ends of the dryer by high performance bearings and driven by means of a electric motor and gearbox. Cooling/heating is provided through the jacket so that the sealed heat transfer media can not come into contact with the process media. Cooling heat transfer fluids include brine or cold water where as heating heat transfer fluids include steam, hot water or heat transfer oil. We make a range of complementary Thermal Control units if there is no plant heat source available and a limpet coil is provided instead of jacket if the heating media is fluid.
TECH SPECIFICATION
Operational Temperature: 0-200C (0-390F)
Heating Temperature: 30C to 300C
Evaporation Rate: 4.12 Kg/ HrlSq. Meter of Heating surface area of water at heating temperature of 100C.
Capacity: 500 - 10,000 litres. Larger dryers can be designed to suit client applications
Approx footprint size: (0.75m dia x 1.5m long) - (1.75m dia. x 4.5m long)
Operational Pressure: Atmospheric to Full vacuum
DESIGN FEATURES
Modular Design with cGMP Stainless Steel construction
500-10,000 Litres Capacity
Innovative paddle/blade technology with high-efficiency operation
Designed for safe operation with double wall vessel construction
Integral dust / powder catcher
Vacuum pump, Condenser and Receiver is optional depending on availability of such on site.
Vacuum tight discharge valve
Internal filter
Loading wet cake / slurry is through a cover with a quick opening device
ACCESORUIES OR OPTIONAL PROVISION.
Raised skid mounting: ideal for scaled pilot plant and lab applications for optimum operator/process flow ergonomics
Limpet coil: This can be used instead of heating jacket if the heating media is fluid.
Full instrumentation pack for control room operation/DCS systems
Internal breaker bars: These run the entire length of the dryer shell and are required if lump formation is expected during drying.
A complementary skid mounted Thermal Control Unit (TCU) can be supplied to control the Dryers heating system (see example of an S2 TCU to the right)
Nitrogen blanketing for sealing at charging and discharging points for drying of highly explosive materials.
Receiver
Condenser
Vacuum System
Thermal Control Unit (TCU) to manage and supply the thermal heating and cooling fluid for the heating jacket, where plant services is not available. Our TCU's are supplied by our Group company. Click here for information about Sunrax Process Technologies.
APPLICATIONS
It can handle a wide range of processed materials from slurries to solid shapes, granular, crystalline or fibrous solids. Typical examples include;
Centrifuged solids
Pharmaceuticals
Starch
Pigments
Rayon staple
Synthetic rubber
Specification
| | | | | | | | | | | | |
| --- | --- | --- | --- | --- | --- | --- | --- | --- | --- | --- | --- |
| Model | | SAP- 500 | SAP-1000 | SAP- 3000 | SAP-5000 | SAP-8000 | SAP-10K | SAP-12K | SAP-15K | SAP-20K | SAP-25K |
| Gross Capacity | LTR | 500L | 1000L | 3000L | 5000L | 8000L | 10000L | 12000L | 15000L | 20000L | 25000L |
| Working Capacity | LTR | 375L | 750L | 2250L | 3750L | 6000L | 7500L | 9000L | 11250L | 15000L | 18750L |
| Diameter | A | 680 | 860 | 1240 | 1470 | 1670 | 1800 | 1910 | 2050 | 2440 | 2600 |
| Shell Length | B | 1225 | 1550 | 2235 | 2550 | 3500 | 3750 | 4000 | 4300 | 5125 | 5400 |
| Length | C | 2700 | 3100 | 4400 | 4700 | 6300 | 6900 | 7200 | 7600 | 8700 | 9000 |
| Width | D | 930 | 1110 | 1590 | 1870 | 2070 | 2300 | 2410 | 2650 | 3190 | 3400 |
| Height | E | 1480 | 1760 | 2240 | 2520 | 2820 | 3050 | 3310 | 3450 | 4140 | 4500 |
| Motor HP | HP | 5 | 7.5 | 10 | 20 | 30 | 40 | 50 | 75 | 100 | |
| HTA | M2 | 3 | 5 | 10 | 14 | 22 | 25 | 28 | 32 | 46 | 52 |
Contact Us
4613, 4614, Gidc, Ankleshwar, Bharuch, Gujarat, 393002, India
Phone :+918037401105